We live in a perpetually changing world. A world of uncertainties, of complex global interconnections where nothing really is predictable anymore.
We are witnessing an unprecedented acceleration. Our current production and consumption models, where everything must be immediate and profitable, give us the impression that our lives are nothing but a whirlwind. Carried away by this frantic pace, we often lose perspective, meaning and a longer-term vision.
As a coach and expert in change management, I wanted to share some advices on how to stay on course during these turbulent times.
TAKING A STEP BACK

What if, in order not to lose our footing in all those turbulences, we take a step back? What if we reconnect with who we really are, with what drives us deep inside (our passions, our talents, ….)? Giving meaning to things again, living our purpose to the fullest… that's one way to stay on course.
In the midst of all this overactivity, it is essential to know how to press the "pause button" and to be in the present moment.
"BEING" versus "DOING"
Too often we focus on DOING. We lose ourselves in action and in our incessant mind. We stop little to not at all to focus on BEING, and to reflect on who we really are, what drives us. To which greater purpose do we wish to contribute?
For both individuals and organisations, having a strong sense of purpose can serve as a compass for navigating our ever-changing world.
PURPOSE GIVES US MEANING
What is our purpose, our personal mission, our "WHY" (Simon Sinek)?
In order to know what yours is, you can ask yourself: Why do I exist? What impact do I wish to have on the world and my surroundings? On my family, on a professional level or on a broader scale, on society or even the planet? Our purpose gives meaning to our individual and collective life and work.
However, we often miss this sense of meaning or we have simply forgotten it…
When there is demotivation and loss of energy, in companies or on individual level, it is often due to a lack of meaning. Employees do not understand the strategy, do not envision where the company is heading, do not grasp the reason behind certain changes. They feel like they are solely executing what is asked of them, without having any impact on their environment.
HOW TO GIVE BACK MEANING
Meaning is one of the greatest human motivators. Let us think about why we exist. Let us define:  "Why does our company, our department, our brand exist? What do we desire to have an impact on and at which scale? What difference do we want to make?"
In business, we are swept up in a torrent of often very short term actions, where everything seems important and urgent. We take little to no time to challenge ourselves, to readjust and to truly align ourselves with a common vision and an organisation's mission. Yet this mission gives meaning to everyone's work. It enables us to differentiate ourselves from competition and creates a strong emotional bond with our employees, customers and suppliers. It serves as a leading thread in determining our strategic axes and action plans, so that we act in real coherence with the company's mission.
Studies show that "purpose driven organisations", companies with a strong purpose/mission, perform better in terms of employee motivation and retention, customer satisfaction, innovation, growth *…
HOW TO FIND OUR "PURPOSE"
As a person or organisation/company, let us define our purpose using the following model. It brings together the 3 following spheres: my passions, my talents and my desire to contribute to something bigger.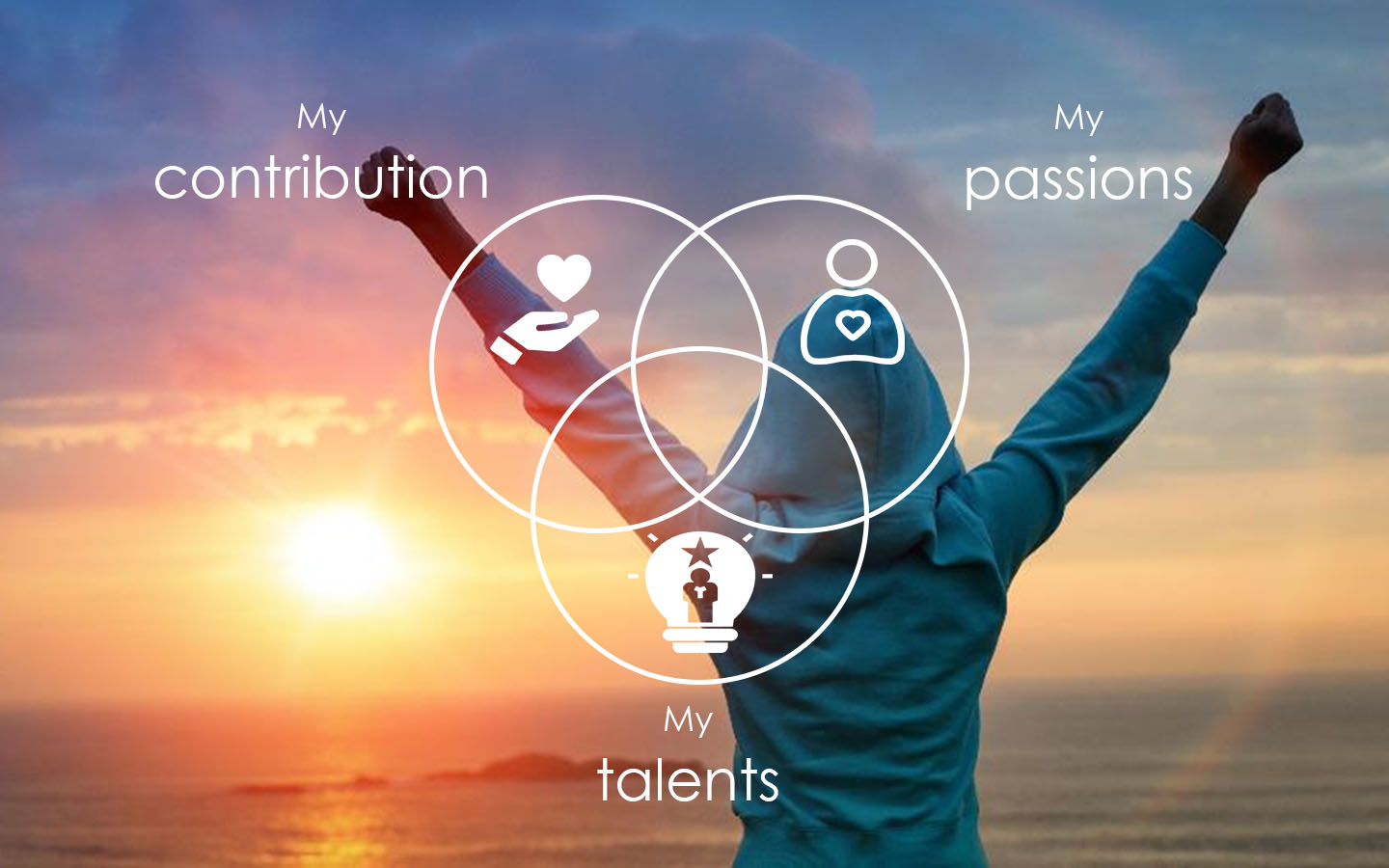 Try to answer the following questions spontaneously, write down a few words for each of the 3 spheres.
What are my passions?
What do I like to do? What gives me energy? What did I like to do when I was younger?
What are my talents?
What are my gifts, qualities and skills that make me unique?
What is my contribution?
What positive impact do I wish to have on the world: on my family, on my work, on society, for the planet? Do I want to contribute to something bigger than myself? To which bigger cause do I wish to contribute?
This same model can be used to define the purpose, the mission statement of a department, company or brand. There are many similarities between the development of a person, an organisation or a brand. The same patterns and mechanisms come into play.
ACCOMPLISHING YOURSELF AND LIVING COHERENTLY

Our energy level is an excellent barometer for assessing whether or not we are truly living our purpose. If we are full of energy, with a feeling of lightness and fluidity, there is a good chance that we are living our passions, our purpose!
When we are lucky enough to really live our purpose/life mission, in line with who we really are, then we reach our full accomplishment, which is the highest level in Maslow's pyramid of needs.
We no longer have to prove anything to anyone. We are free from the gaze and opinions of others. We know that we are in the right place, that we are and do what makes sense to us.
WHEN INDIVIDUAL PURPOSE MEETS CORPORATE PURPOSE
Excellence will be achieved when there is an alignment between personal purpose and the purpose of the organisation or department in which individuals work.
Living our purpose in our daily work is possible! During my workshops, we start with individual purpose and see how it resonates with the purpose of others. We then build the purpose of the department or organisation. If the organisational purpose already exists, we figure out how the individual purposes are aligned with and contribute to the organisational purpose. It is the richness of the whole team and of each individual mission, that will feed the greater mission of the organisation.
The company's or department's purpose will be the unifying base, federating all the members of the team, driven by common values and ambitions. It will bind the team and mobilise forces in a direction that will make sense to all.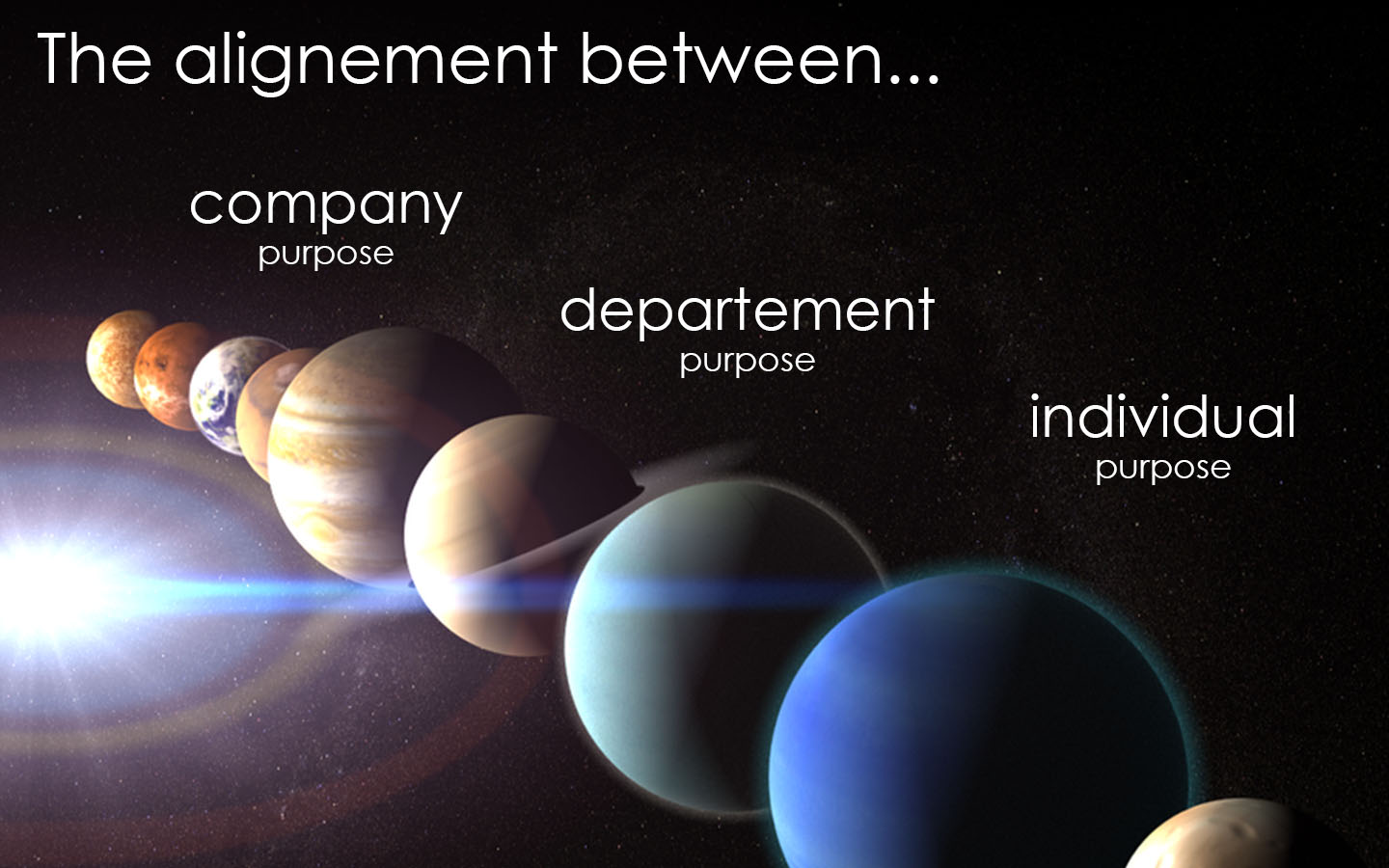 TO CONCLUDE

Giving meaning, having a sense of purpose that is strong to us – as individuals and as a company – is like equipping ourselves with a compass to navigate our turbulent world.
In business, let us take a step back. Let us challenge our certainties and our old ways of doing things, to manage in uncertainty with agility. Let us really align ourselves with a shared organisation's purpose, which gives meaning to everyone's work and creates a strong emotional bond with our employees, customers and suppliers. It enables us to differentiates ourselves and serves us as a leading thread in our action plans, so that we can act coherently.
And for each of us, let us dare to live our life and our purpose to the fullest!  This allows us to fulfil ourselves and to be happy! Because we do what we like, we live in harmony with who we are, with our values and our passions.
 Isabelle Maes
Executive coach, trainer & change expert
Would you like to know more about this subject? I invite you to watch this video in which Camille Gillon, Deputy HR Director – Belfius, questions me on the topic, step by step in the grandiose landscape of the Fens:
1′ 30′ : Why take a step up in our changing world?
4′ 02": But what is "Purpose"?
10′ 11" : How to find our "Purpose"?
17′ 40": How do we feel when we live our purpose fully?
19′ 11" : When the individual purpose meets the company's purpose
21′ 41" : The winning position : Our body, this ally to influence our thoughts and emotions
*Deloitte Consumer Pulsing survey 2019 & Millennial and Gen
https://im-management.be/wp-content/uploads/2012/05/turbulence-e1653071615245.jpg
933
1698
Isabelle Maes
https://im-management.be/wp-content/uploads/2018/11/IM-Management-Logo-300x138.png
Isabelle Maes
2022-05-20 19:53:40
2022-05-24 18:09:25
How to navigate in the turbulences of our changing world?